After RuPaul's Drag Race and all of its glittery iterations went super nova, other drag outings followed. Trixie & Katya was festive. Queens of Paradise spotlighted talented drag queens around the world. We're Here found a place on Max, and generated buzz following three drag queens on the road as they recruited folks to push their limits. Last year, we checked into Trixie Motel. This year, Drag Me To Dinner found popular drag queens competing to see who could toss the best dinner party. And maybe a cosmo or two to boot.
It was only a matter of time before the creative high heels strutted their way into the glampy drag horror realm. To that end, welcome to Big Easy Queens, a darling of an indie movie that's pure pleasure. Best not to overthink things too much in this endeavor. Enjoy this horror queen celebration, which delivers fine turns from its indie film actors and more "Gurrrrl! WTFs!" than you can imagine.
Directed by Erynn Dalton and written by Robert Leleux, the film stars Miss Bouvèé, Benjamin Shaevitz, Jennifer McClain, Alexander Zenoz, Varla Jean Merman, and Matthew Darren. The plot, which is tres noir, also benefits from being a campy neo-giallo whirlwind steeped in blood, gristle, and glitter. It's indie filmmaking through and through — the perfect emotional vacation from, well, 2023's heavy minutiae.
Not a Drag at All
With its thin running time of just 80 minutes, Big Easy Queens dives into the drama immediately. Minnie Bouvèé (a.k.a. Eric Swanson) is mob queen of the New Orleans Quarter. You don't want to mess with this b*tch. Or her arch-nemesis, Poodles Makenzie (Jennifer McClain). But Minnie must keep her stake in the Quarter, so she has her thugs brutally slaughter Poodles' crew. Relish that a moment, because that certainly has to be the first time those words were ever expressed in a sentence. There will be blowback from Minnie's act, of course, and Poodles plots away.
Meanwhile, as the creepy noir elements are applied as freely as mascara here, Minnie realizes she is being stalked by a shady masked figure who always leaves behind bouquets of gardenias. The fragrant may be sweet, but the notes are downright sour. Somebody is out to get Minnie. Is it Poodles? Minnie isn't sure. The plot takes yet another turn when Minnie's long-lost sister, Mimi Bouvèé-Truve (Benjamin Shaevitz), returns, which sends Minnie into a suspicious tizzy. Mimi stole the man she loved so long ago. What's she doing back? There's a story there, and it's great fun when it's revealed.
Related: The Best Movies and TV Shows About Drag, Ranked
The filmmaker does well with the creative dance Robert Leleux sets up in the script. The film's low budget works to its favor, leaning into night shots depicting New Orleans, and the interiors of the clubs run by Minnie and Poodles, respectively. The script aptly sets up why these two queens are important. But they're different from each other, too. Poodles walks around with a prominent cane and tends to be a dom dame, keeping some of her workers in hanging cages in between barking out orders and worrying about her position in the Quarter. Minnie, surprisingly, is more grounded, leaning into her inherent wisdom. For a sassy drag extravaganza, these characters surprisingly show more depth than you'd expect.
Fake Eyelashes, Blood, and Guts
It doesn't take long before Big Easy Queens dips into some of its characters' backstories. Minnie and Mimi spill a few tales. Of the two, Mimi's backstory holds more zest, and Benjamin Shaevitz plays the character to winning ends, spinning the Southern belle just right to make us wonder: Is she really that naïve or is this gal a major nutcase? Both might be true. Mimi's backstory has plenty of blood in its path, which is what brings her back into Minnie's fold. Suddenly, she's quickly fueling a toxic trifecta as her alliances shift between Minnie and Poodles and back again.
Minnie, forever leaning on her trusted assistant Giuseppe (Alexander Zenoz), can't help picking glitter out of her navel either. Mimi's betrayal still stings. Can she ever forgive her sister for taking the man she loved? Such a great moment to cue the song "Jolene," but alas, Big Easy Queens has plenty of sass with its own vibrant musical numbers. Relish those.
Related: 10 Horror Comedies That Lean Heavy on the Comedy
The dialogue sure is fun on more than one occasion. "You've been collared, pet. Ruff. Ruff!" Mimi growls to Poodles after she's been leashed at one point. "Mimi!" Minnie howls at another juncture when things get tough. "Bring me the ax!" And: "Tell Poodles where to kiss it and make it all better." (Wink, wink.) All of it feeds into the wickedly fun absurdity.
The main mystery — who's the masked figure and why is that person leaving behind flowers and notes? — is placed to the side here and there as these colorful cats do their business entertaining the audience. The film has a very postmodern Rocky Horror Picture Show vibe, and you can easily see how Big Easy Queens will become a cult classic. As the main mystery heads towards its big reveal, all the characters have been bitch-slapped on some level.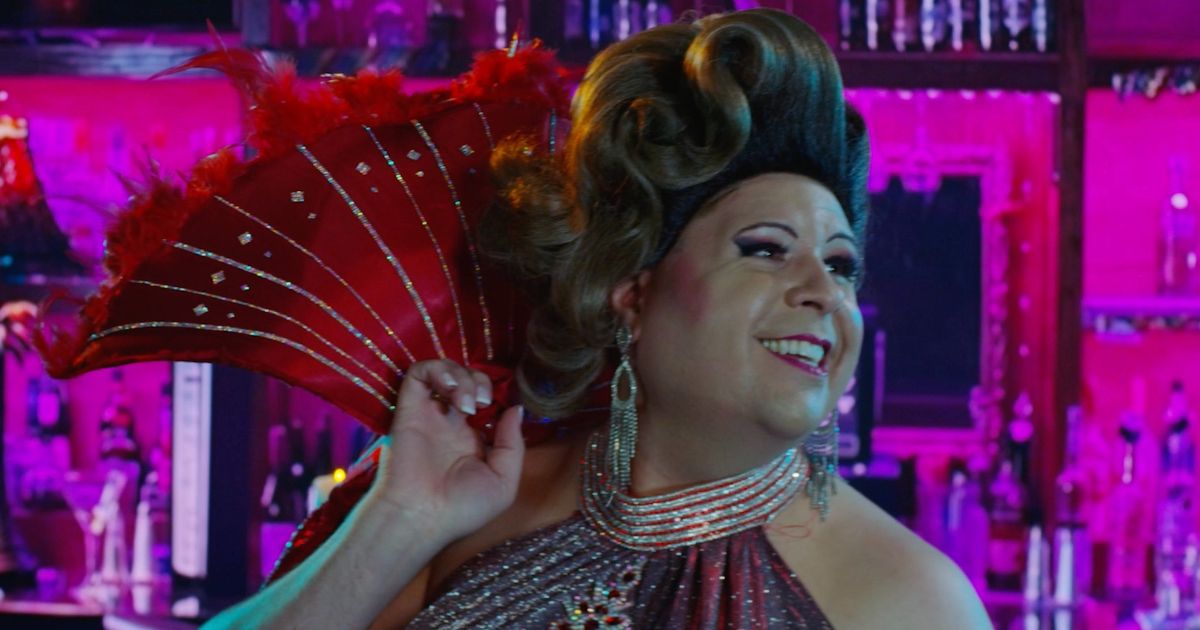 Kudos to the vocal and acting talents of Eric Swanson, who is a find as Minnie. You want to spend more time with the diva. Brassy and ballsy yet vulnerable and curious, it's a good role and the actor does justice to the character he created in the Florida drag scene. In the meantime, B-players, including drag phenom Varla Jean Merman, fit in nicely.
True, the film may recall Die, Mommie, Die!, another drag winner, which starred Charles Busch, but Big Easy Queens is proudly its own beast. Uncontrollable machine guns. Voodoo zombies. High heel mayhem. Howls of laughter. Blood-curdling screams. Gore and then some. Big Easy Queens is pure escapist fun. What an unforgettable, hilarious, queer horror camp delight.
Big Easy Queens is currently making the rounds at film festivals and will expand to broader release in the future. You can download the original motion picture soundtrack on all streaming platforms, and learn more about the film and upcoming screenings here.