by Dominic Harden, Co-President of the Roanoke Young Democrats
There's been a lot of talk about Governor Youngkin's push for Republicans to vote early instead of on Election Day. Since Democrats expanded voting rights a few years ago, we've seen a huge advantage in Democrats' early voting because it's so safe and convenient. Now that Republicans are following the Democrats' strategy, it will be interesting to see how early voting is affected for the 2023 elections.
We have some early data from early voting, and several trends stick out in the first few days. First, according to Sam Shirazi, it looks like voter turnout will be closer to 50% than the 40% we saw in 2019. As a reminder, this is the first off-off year election in Virginia since voting patterns changed during COVID.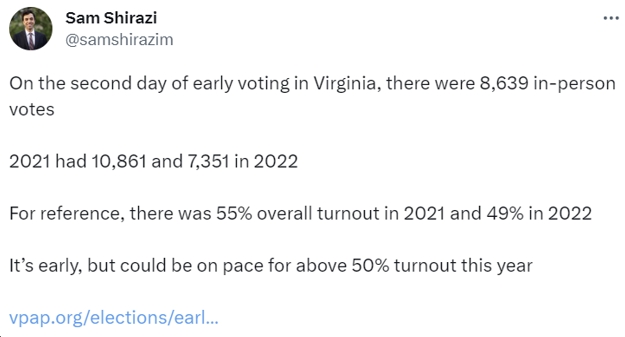 Second, more of the competitive districts are leading the way in early voting. In fact, five of the top eight State Senate districts for voter turnout are in the "Battleground" category. As we've seen over the first few days of early voting, Trish White-Boyd's district here in Roanoke leads the entire state:
SD4 (Democrat) Trish White-Boyd vs. (Republican) David Suetterlein
SD24 (Democrat) Monty Mason vs. (Republican) Danny Diggs
SD30 (Democrat) Danica Roem vs. (Republican) Bill Woolf
SD31 (Democrat) Russet Perry vs. (Republican) Juan Pablo Segura
SD27 (Democrat) Joel Griffin vs. (Republican) Tara Durant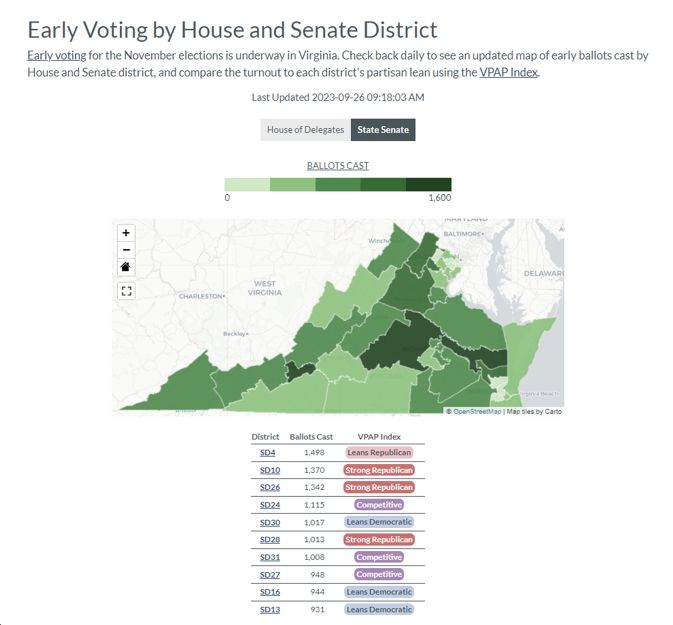 For Trish White-Boyd's race, a month ago the Senate Democratic Caucus upgraded her to "battleground" based on a number of factors showing how competitive the race is. We suspect these factors included polling, fundraising, and/or how hard the candidate and her team were working.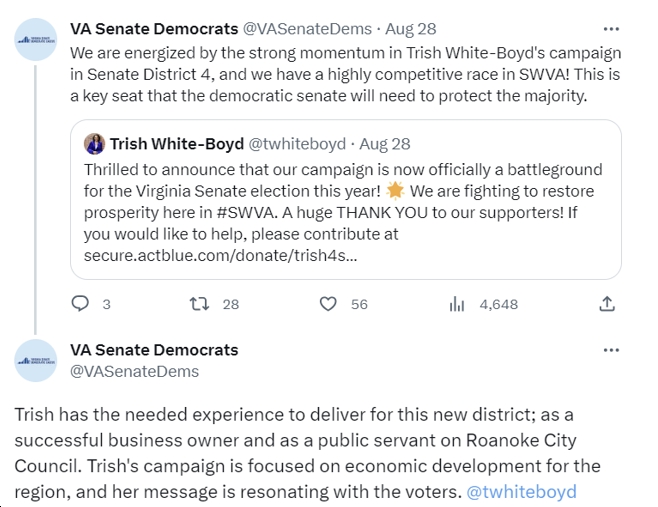 Meanwhile, the Republican-sponsored Virginia Project PAC has their breakdown of the most competitive State Senate races. Their partisan lean index shows the handful of districts that will decide the majority. A Democrat would need to win one of the five competitive races in their calculations in order to have a majority in the State Senate. Those five competitive districts are outlined in green in the screenshot from their tracker; SD4, SD27, SD17, SD24, and SD31.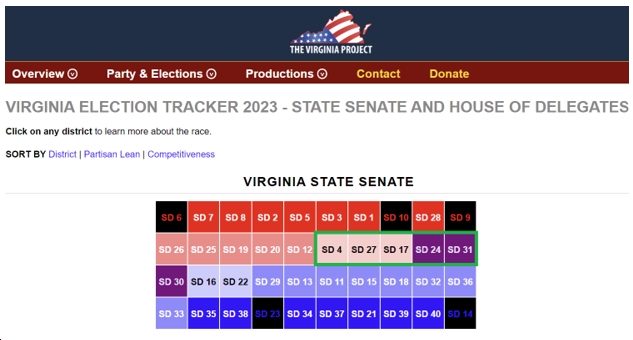 What does all this speculation and data mean for the Trish White-Boyd campaign?
A few months ago, this race was considered much more safe for Republicans. Trish White-Boyd reported less than $10,000 cash on hand at the beginning of July, while David Suetterlein reported more than $400,000 cash on hand, a more than 40-1 advantage for David Suetterlein.
Since then, Trish White-Boyd out-raised David Suetterlein $123,000 to $112,000, with a more than 5-1 advantage on individual donors for Trish White-Boyd.

Based on the campaign finance reports, Election Preview upgraded Trish White-Boyd's campaign, and added SD4 to their forecast for competitive races. (Note: They made this graphic with an incorrect Chance of Winning percentage of 57%, when it should have been in the 10-25% likelihood range based on their upgrade from Safe R to Likely R.)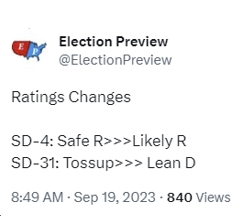 We also know that in late August, Trish White-Boyd sent out the first mailer of the campaign, outlining priorities for the district. It may have been the first communication that some voters had gotten from a candidate in many years. A screenshot of some portions of Trish White-Boyd's mailer can be seen below.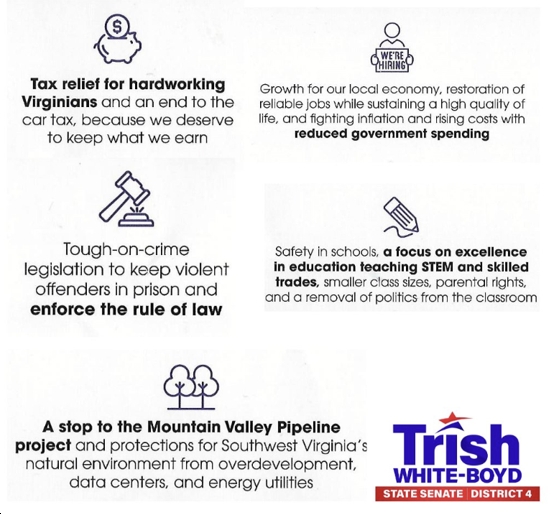 A short time later, in early September, residents of the State Senate district received a mailer from the Republican Party of Virginia. The Republican-sponsored mailer followed with four similar priorities to the Trish White-Boyd mailer, using similar language, with one exception being a point about protecting high school sports rather than Trish White-Boyd's point on protecting the environment.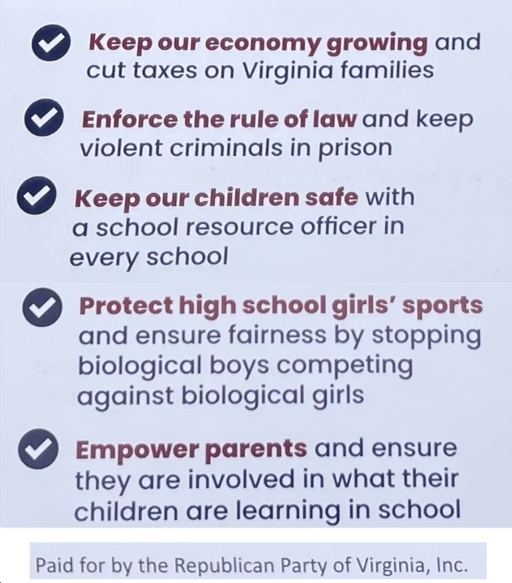 On their websites, both candidates have published portions of their "tax relief" proposals:
Trish White-Boyd would cut the state income tax before earnings are withheld, and finally end the car tax.
David Suetterlein would enhance the standard deduction, and reduce the tax burden on small independent businesses.
For further context on taxation in Virginia; after last year's over-collection of taxes, the government had a $5 billion surplus. Virginia is long overdue for a correction to the highest tax bracket, which still starts at earnings over $17,000. "Taxes owed have far outpaced median income, because income brackets have not been changed since 1990." – Virginia's Joint Legislative Audit and Review Commission 2022 Report
And finally, for paid communications, David Suetterlein is listed as having spent $30,000 on television advertisements in the past few weeks, and he has received over $39,000 in Independent Expenditures on his behalf.
Trish White-Boyd's campaign has spent $3,666 on television, and is not listed on VPAP as having received any Independent Expenditures. David Suetterlein's campaign is drastically outspending the Trish White-Boyd campaign in what was supposedly a safe Republican seat. For the Republicans to spend nearly $100,000 between mailers and television, eight weeks before Election Day, might indicate that they've done polling and the results came back bad.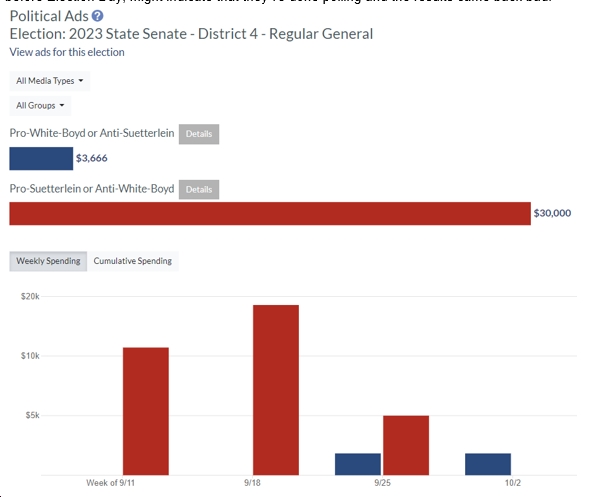 In conclusion, it remains to be seen how the early votes will shake out. Other districts have spent far more money on paid communications, but the race between Trish White-Boyd and David Suetterlein currently has the highest number of early voters. Based on the majority of votes coming from Roanoke City, where Trish White-Boyd serves on City Council and is the bluest portion of SD4, she has probably taken an early lead in this very competitive district. Since most of Northern Virginia is blue, we wanted to share how things look in parts of rural Virginia. It will be interesting to see if Trish White-Boyd gets some help now that every indicator shows that there is a competitive State Senate race in SWVA.
********************************************************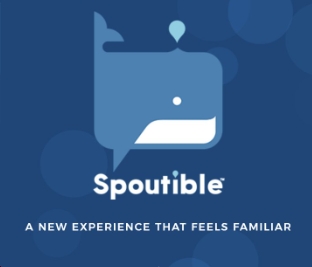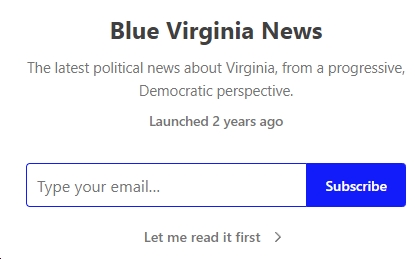 Sign up for the Blue Virginia weekly newsletter