The product recommendations in this post are recommendations by the writer and/or expert(s)
interviewed and do not contain affiliate links. Meaning: If you use these links to buy
something, we will not earn a commission.
America first said howdy to Texas Roadhouse in 1993, as its flagship location materialized in none other than Clarksville, Ind. Yes, the legendary chain did, in fact, get its start in the Midwest, many miles away from its namesake Lone Star State. And, even from the beginning, it was a new breed of steakhouse.
The original Texas Roadhouse didn't attempt to be upscale by any means, but rather aimed to create a warm southwestern environment "where everyone, of all ages, could come and have a great meal and great fun for a great price," according to the company.
I can certainly attest to this mission, based on my many visits to the chain as an adolescent. My family never descended on one of the restaurants with a group smaller than at least five, the music was always cranked loud, and the steaks were always hearty and satisfying. Moreover, it's a place where sweet rolls come in droves, you can ride a saddle in honor of your birthday, and peanut shells routinely covered the floors (at least in the pre-Covid days)—making it more of a honky-tonk circus than a steakhouse.
On the surface, this is what Texas Roadhouse is all about: fun and hand-cut steaks. But, if you dig past the 44% of its menu that is purely beef offerings, you'll find there is actually much more to discover—like "fall-off-the-bone" ribs, country-style dinners, and lesser-known chicken specialties.
As a carnivore and avid steak lover, I will admit that I had never given this poultry section a second glance. So, I was eager to discover a whole new side of the steakhouse never before explored. At my local Texas Roadhouse in Columbus, Ohio—one of some 661 locations worldwide, according to the chain's most recent quarterly report—I counted six total chicken entrées, each with its own special flair. With some help, I ordered each one and got to work.
So, listen up, y'all. Here is my final verdict, starting with my least favorite and ending with the finest chicken dish the chain has to offer.
PER 1 CHICKEN BREAST: 260 calories, 4 g fat (1 g saturated fat), 1210 mg sodium, 12 g carbs (4 fiber, 8 g sugar), 47 g protein
If you're striving to sniff out the healthiest chicken dish on the menu, look no further than the Herb Crusted Chicken. The poultry pick comes in at a mere 260 calories–the second lowest of all Texas Roadhouse entrées, behind only the 6-ounce USDA Choice Sirloin. It also holds just 4 grams of fat and 12 carbs while still packing in 47 grams of protein. Before it reaches your plate the boneless chicken breast is marinated, rubbed with herbs and spices, and flame-grilled. Scattered parsley flakes and a caramelized lemon are the cherries on top of this $14.49 plate, which includes two sides.6254a4d1642c605c54bf1cab17d50f1e
The Look: The butterfly cut of this chicken clearly distinguishes it from the others, but also makes it one of the thinnest options. Judging by its singed surface, the grill undoubtedly did its job. As for the herbs and spices, however, they didn't work quite as hard. With a name like "herb crusted," you would naturally expect a visible crust of herbs, right? But, all I could really detect was the parsley and a few last-minute grains of salt.
The Taste: Dry, with an insufficient amount of seasoning to make up for it. This is the most healthful option and it certainly shows. The flavoring of the herbs and spices was palatable, and my group and I could identify what we thought to be hints of salt, pepper, garlic, oregano, and maybe even a smidgen of basil. But, I could've gone for a double dose of this blend in order to better stomach the meat itself, which was relatively tough and even laborious to cut. The caramelized lemon, served on the side for "extra flavor," was certainly a saving grace here and brought some much needed moisture to the dish.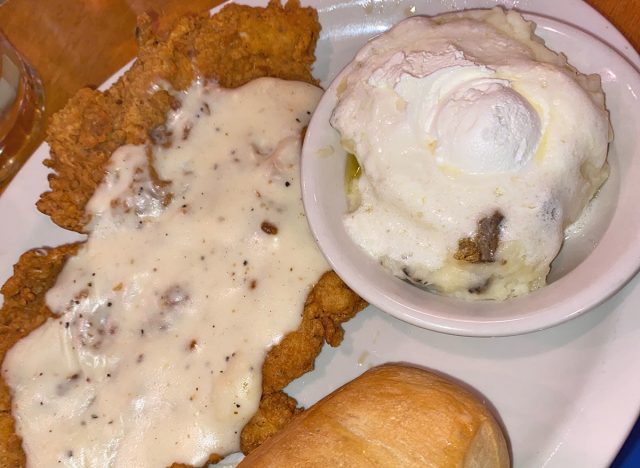 PER 1 CHICKEN BREAST (plus cream gravy): 770 calories, 44 g fat (16 g saturated fat), 1460 mg sodium, 45 g carbs (1 fiber, 9 g sugar), 48 g protein
No southern-style eatery worth its salt is complete without a country fried chicken on its menu. The Texas Roadhouse rendition is "hand-battered, golden-fried and topped with choice of gravy" with the options being either brown or cream gravy (what other restaurants call country or white). I opted for the cream gravy–the standard and obvious choice, but one which added an extra 270 calories to the $14.49 meal.
The Look: A prototypical and sizable piece of country fried chicken. Although, it came out somewhat thinner than I would have expected–less than an inch thick in most spots. The coating is the proper shade and not overly oily for something that is deep fried. The most eye-catching and notable feature, though, is the pepper-speckled gravy, which is well-portioned and cascades over the edges of the chicken ever so slightly.
The Taste: I came in with high hopes, but there's something a bit discomforting about this comfort food. First off, the salt level in the breading is overbearing–someone in the kitchen must've gotten overly excited with the shaker. This, paired with the gooey texture and peppery nature of the gravy simply didn't sit well. On a more positive note, the chicken wasn't nearly as dry as the herb-crusted variety (although not exceedingly juicy, either). And, the hefty slab did have a nice crunch. So, Texas Roadhouse didn't completely lay an egg with its country fried chicken, but came dangerously close.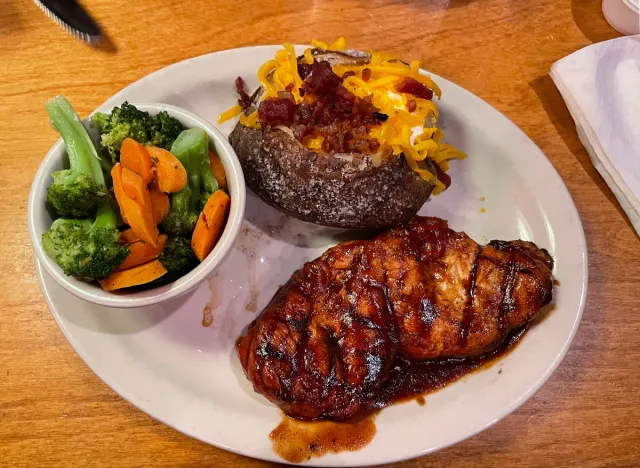 PER ½ POUND CHICKEN BREAST: 300 calories, 3.5 g fat (1 g saturated fat), 450 mg sodium, 19 g carbs (2 fiber, 15 g sugar), 46 g protein
Some form of barbecue chicken can be found at nearly any restaurant that features American fare, and it's typically a safe bet as long as the chicken is well-cooked and the sauce is quality. At Texas Roadhouse, you get a half-pound breast when you order the classic, which comes  grilled with two sides for $13.49. That's tied with the Critters for the cheapest chicken on the lineup.
The Look: Nicely coated with a dark brown barbecue glaze–perhaps a little bit too much sauce, though, as it began to pool on the plate. Criss-cross grill marks clearly peak through from underneath. Though it isn't as wide as the country fried or herb-crusted chickens–closer to three-quarters of the size–its thickness is comparable.
The Taste: Not overly impressive, but not unsavory by any means. The chicken is tender and can be easily carved. One small critique is that the barbecue sauce is undeniably sweet with no heat to speak of. So, if you prefer it with a little more of a punch like me, this probably isn't the poultry plate for you. That complaint aside, my friends and I didn't have much else to squawk about, and this was actually one of few clean plates by the end of the meal.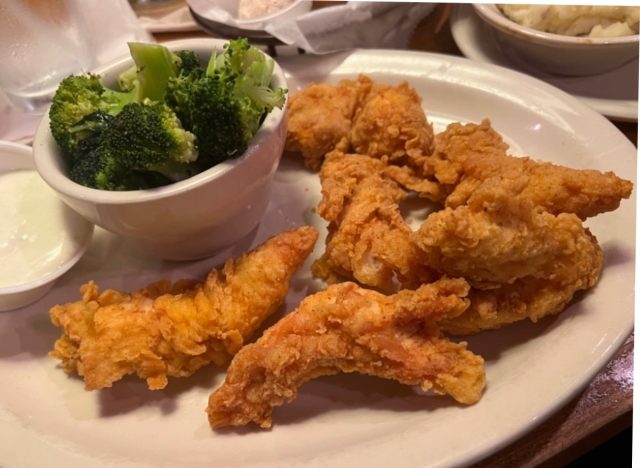 PER ORDER: 480 calories, 21 g fat (4 g saturated fat), 1190 mg sodium, 26 g carbs (3 fiber, 2 g sugar), 45 g protein
Chicken Critters is just the restaurant's cutesy name for your average, everyday chicken tenders–every child's favorite restaurant meal and a nostalgic pick for adults as well. For $13.49, you get bout six all-white meat tenders (give or take, depending on their size), and a daunting choice between barbecue, ranch, honey mustard, hot, or mild sauce. For our party, the choice of the day happened to be ranch–a midwestern must-have.
The Look: These strips are plump and come straight from the fryer, sporting a golden tan hue. The buttermilk-based breading isn't terribly heavy and you can even see spots of the white chicken poking through from below. However, it is unlike what I've seen before at other restaurants or fast food joints and more resemblant of the fried foods you would find at a fair or festival.  Overall, we have what appears to be a very traditional take on chicken tenders, but perhaps one that is only moderately crispy compared to what you can find elsewhere.
The Taste: This Texas Roadhouse trademark may sound creepy crawly, but in reality the tenders are juicy and quite satisfying–especially when paired with your favorite dipping sauce. The breading walks the line between crispy and soft, as I suspected upon first glance. The dinner's description does say "lightly crispy," though, so maybe that was to be expected.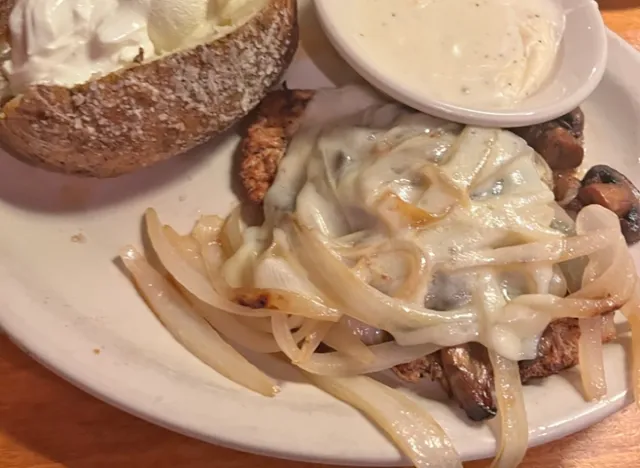 PER 1 CHICKEN BREAST (plus mushrooms, onions, and jack cheese): 430 calories, 19 g fat (7 g saturated fat), 790 mg sodium, 13 g carbs (3 fiber, 7 g sugar), 50 g protein
"Smothered" Chicken is a southern gem, but it doesn't always look the same. (There are many different toppings you can slather onto a chicken breast, after all). This steakhouse elected to go with sautéed onions, sautéed mushrooms, and choice between melted Monterey jack cheese or made-from-scratch gravy. I cheated and ordered both, with the cream gravy on the side. Unfortunately, the gravy adds on extra calories yet again, but only 90 this time. So, that brings the total calorie count to 520 at a cost of $14.99 for this meal.
The Look: When they say "smothered," they mean it. The sheer volume of toppings on the plate made my jaw drop and it was hard to identify if a piece of chicken even existed under the mound. Mushrooms and onions were strewn about at random, with some even dribbling over the plate's edge (the chef was certainly not going for looks here). The cheese appears nice and melty, though. And, once I shoveled all the way down to the breast, it was colored well with those all-important grill marks, though the meat seemed a tiny bit thin.
The Taste: The standard grilled chicken is moist and flavorful. But, if I'm being honest, it was a bit of an afterthought for me. What really won me over was the garnishes. The onions were similar to what is used in the chain's famed Cactus Blossom, although they took on a new caramelized form in this dish. The nearly liquified Monterey jack was mild but it tied everything together in cheesy harmony. And, the mushrooms were a work of art–sautéed to buttery perfection with garlicky notes. Admittedly, the side of cream gravy didn't get much use after the country fried chicken experience. I would forgo that addition in the future.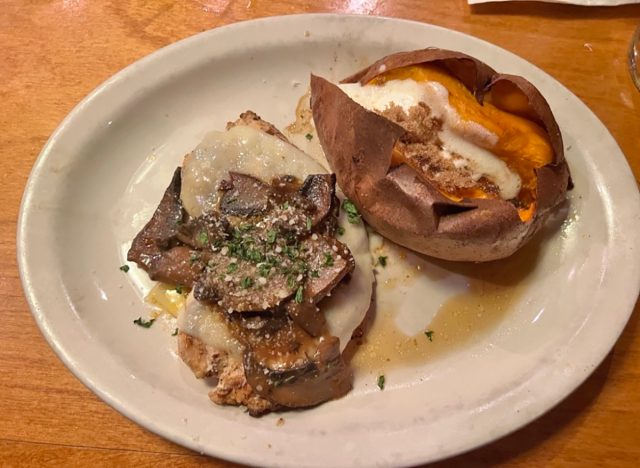 PER 1 CHICKEN BREAST (plus portobello mushroom sauce, jack cheese, parmesan cheese, parsley): 430 calories, 20 g fat (9 g saturated fat), 1030 mg sodium, 7 g carbs (3 fiber, 2 g sugar), 58 g protein
The Portobello Mushroom Chicken follows the same basic makeup as the "smothered" variety, starting with the same marinated and grilled chicken breast (also used in the BBQ Chicken). It is similarly dressed with Monterey jack cheese and mushrooms—although here it is described as "portobello mushroom sauce" rather than "sauteed mushrooms." Parsley and grated parmesan cheese also adorn the top, while onions and gravy are absent. This plate was the most expensive chicken dish, ringing up at $15.49.
The Look: Better composed than the smothered kind, and piled high with dark gray mushrooms (not surprisingly). Chicken with its white cheese coat could clearly be seen underneath at a satisfactory degree of thickness. Parsley and the parmesan provided some extra razzle-dazzle, although the cheese particles were a tad light and concentrated mostly to the middle.
The Taste: The chicken is succulent, and it just gets better from there. As I bit into one of the mushrooms for the first time, I didn't even finish chewing before openly declaring it was one of the best sautéed mushrooms I'd ever had (and there have been quite a few). The sauce which accompanies them also seemed to seep right into the chicken, offering an extra shot of juiciness. The two cheeses teamed up well together, giving the dish a more diverse flavor profile. And, as the pièce de résistance, this meal even serves up the highest level of protein of all the chicken dishes, at 58 total grams.
If you're not a fan of mushrooms, I will say that this poultry may not be for you. But, for me, it hit all the necessary marks. And for that, I tip my hat to you, Texas Roadhouse!