Protesters rammed their car in the back of a campaign vehicle of Republican presidential candidate Vivek Ramaswamy ahead of an event held in Grinnell, Iowa, Fox News Digital has learned.
A group of liberal protesters appeared outside Ramaswamy's event at Saints Rest Coffee House on Thursday. Ramaswamy's campaign told Fox News Digital a female driver of a blue Honda Civic and a passenger were yelling expletives at the GOP hopeful, giving him the middle finger and blaring the car horn.
The driver later hit the rear end of the campaign's parked SUV and drove off, though the campaign could not definitively say whether it was intentional. 
Grinnell Police Department confirmed with Fox News Digital that police were called to the scene over a property damage incident. 
RAMASWAMY FIRES BACK AT MEXICAN PRESIDENT IN BORDER SPAT: 'NEW DADDY IN TOWN'
Moments after the incident, protesters not involved in the hit-and-run were seen heckling Ramaswamy as he was entering the coffee house. One called him an "a–h—" while advocating for public schools. Another shouted "protect trans kids" and a third told him "climate change is real."
"Anyone else have something to say?" Ramaswamy said to them.
"What's it like being the punching bag of the RNC?" one protester asked.
"Well I think the RNC is corrupt. I think both political parties are pretty corrupt," Ramaswamy responded.
RAMASWAMY UNVEILS PLAN TO 'DECLARE ECONOMIC INDEPENDENCE FROM CHINA' IN UPCOMING POLICY SPEECH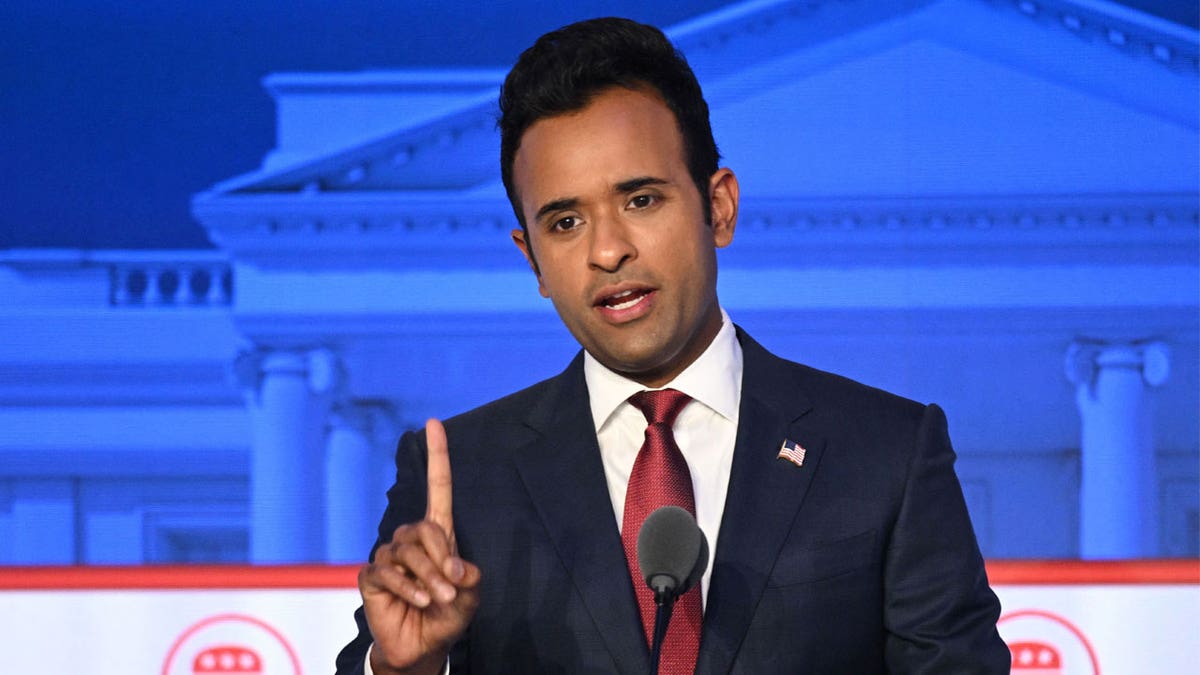 Another protester shouted, "My mom's a public school worker and she deserves to be paid and respected!" 
"I think every person deserves to be respected but we are failing to do right by our kids in this country," Ramaswamy replied. "Our achievement gap versus other countries is bad and we're all in that together."
"But here is what I will say: The beauty of this country is that you all have the right to express your opinions and you're doing it peacefully. And even though I disagree with you, I'm proud of you for expressing your views even if I disagree with you," he continued. 
WWII GOES VIRAL AT RAMASWAMY NH TOWN HALL: WHAT YOU'RE SAYING IS 'EXACTLY WHAT MY GENERATION GREW UP IN'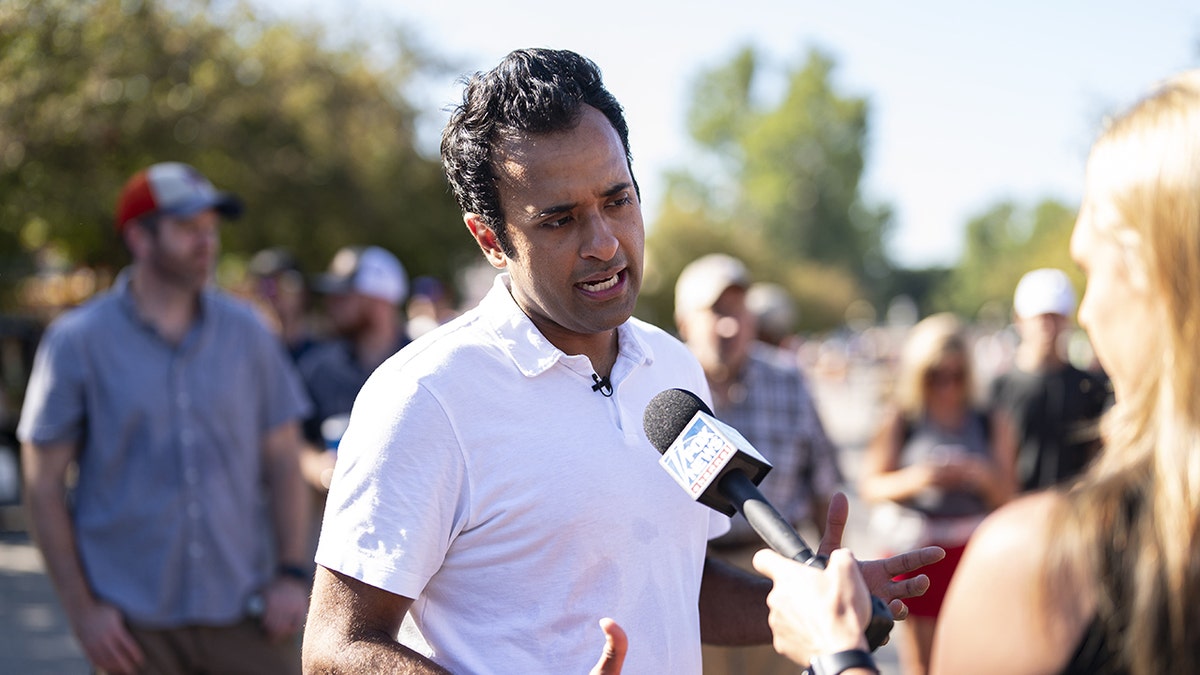 CLICK TO GET THE FOX NEWS APP
The protester then accused Ramaswamy of wanting to "destroy her job and her livelihood," something Ramaswamy quickly rejected. 
"I do want to fix our public schools though. So thank her for her service for me. I really mean that," Ramsawamy told the protester. "But we also have to focus on how we're going to improve achievement of our kids. And I think with your mom, if she's as earnest as you're describing, I'm sure she cares about the same thing, we're not getting there with the existing system we have. So we're gonna have to find a better way to do it. And one of the ways we're going to do it is through open debate. You guys are doing your part. I'm gonna do mind. Keep it up."
The protesters seemed to disperse after police arrived to the scene, according to the campaign. 
"Vivek will always stand for free speech and the right to peaceful protest, but when protesters cross the line and escalate to physical (intentional or otherwise) that is unAmerican and unacceptable," Ramaswamy spokeswoman Tricia McLaughlin told FOX News Digital. 
Ramaswamy later posted on social media, "I believe in free speech, especially for those who disagree with me. Violence is never the answer. We will always hold ourselves to a higher standard than the other side."
Get the latest updates from the 2024 campaign trail, exclusive interviews and more at our Fox News Digital election hub.