From Del. Rip Sullivan's BLUE DOMINION PAC:
Welcome to the seventeenth edition of the 2023 Flip and Defend-A-District Series.
There is an avalanche about to hit Virginia–or at least hit Virginians' TV screens. Governor Youngkin's PAC continues to raise extraordinary amounts of money with less than four weeks to go until Election Day. In just one 48-hour period, his PAC took in $4.4 million from a couple of out-of-state billionaires who are feverishly attempting to buy him a trifecta in Virginia. And he is not stopping there. Next week, he is hosting his second "Red Vest Retreat" — another gathering of billionaires — to add to the avalanche of money.
We cannot let the unimaginable happen in Virginia at the hands of a few billionaires — abortion ban, rollbacks of gun safety laws, and dismantling of the Clean Economy Act, just to name a few. And if you catch yourself thinking "it could never happen," think again. We must support Democrats.
Contribute to the candidates featured in this series and support Democrats all across Virginia. Or contribute to Project Blue Dominion–we'll make sure your money gets where it is needed most.
We can do this. We simply have to.
The candidates Project Blue Dominion features in our Flip-and-Defend-A-District series are the Democrats—incumbents and challengers—who Virginians need to elect to gain the majority in the House of Delegates and hold the Senate. The stakes are high and the power to elect Democrats lies in your hands. It is the time, donations, and activism of Virginia voters that will determine our future. I hope you will join us in seizing this historic opportunity.
---
Senate District 21
Meet the Candidate: Angelia Williams Graves
Delegate Angelia (pronounced Angela) Williams Graves currently represents the 90th House of Delegates District in Norfolk. She is the Democratic nominee for the new 21st State Senate District to represent Norfolk.
Delegate Williams Graves was born and raised in Norfolk, Virginia. Angelia's public service spans over more than two decades. She is a graduate of St. Mary's Academy, Booker T. Washington High School, Tidewater Community College and Old Dominion University.
Her public service began when she started as an employee for the City of Norfolk in 2001 in the Commissioner of the Revenue's office. After being appointed to the Norfolk Public Libraries Board of Trustees, Angelia went on to be elected as a member of Norfolk's City Council in 2010. From there, she was appointed as Vice-Mayor of the City of Norfolk from 2014 to 2016 and elected to the Virginia General Assembly's House of Delegates in 2021.  Angelia is a strong advocate of a woman's right to choose, common sense gun laws, public education and a supporter of tackling the climate crisis.
About Senate District 21: 
This district encompasses the entire City of Norfolk with the exception of 5 precincts in East Ocean View. The city has a population of approximately 235,000 residents and includes institutions of higher learning, a strong public school system, great neighborhoods and a bustling downtown. Norfolk is home to the largest Naval Base in the country. Norfolk is a minority majority city with a large military population. She is a unique city with 7 miles of Chesapeake Bay beachfront and a total of 144 miles of shoreline along our lakes, rivers, and the Bay which leaves our city heavily impacted by rising sea levels and flooding. Like many localities across the Commonwealth, Norfolk is challenged by gun violence, lack of affordable housing, slow workforce development and climate change. All of these are issues that Angelia is eager to work on in the Senate; not just for Norfolk but for the entire Commonwealth.
Who Angelia is up against: 
Her opponent is a Republican, running as an independent, who does not represent the values of the people of the 21st Senate District.
Contact the campaign: here
Contribute: here
---
Senate District 37
Meet the candidate: Saddam Azlan Salim
Saddam Azlan Salim is a Bangladeshi-American whose family came here after climate catastrophes in the late 1990s. After arriving here, his family was evicted onto the streets and made homeless so that their home could be turned into luxury housing. It was mostly policies enacted by Democrats, like Fairfax County's affordable housing program and local community health centers, that helped his family stay afloat and eventually thrive. Saddam is a product of our great public schools, community colleges, and public universities. You could say that he is proof that those policies work – that when we invest in these critical issues, it produces people like Saddam, someone who went from no English to a Master's degree, who is ready to serve and give back to his community.  He knows firsthand why things like housing and healthcare matters.
Saddam is a graduate of George Mason University's Schar School of Policy and Government. He grew up in Northern Virginia, attended Falls Church High School and George Mason University for his BA and Masters in Public Administration. In 2022, he completed the Sorensen Institute Emerging Leaders Program at the Weldon Cooper Center for Public Service at the University of Virginia.
Saddam Azlan Salim has worked in Federal financial management and consulting for over 7 years and works for 11th Hour Service located in Falls Church, Virginia providing financial management services to Federal Government clients. Saddam is running to fight for:
Gun Violence Prevention: Virginia should have an assault weapons ban, more regulations on gun sales, and other common sense gun control solutions to improve public safety.
Affordable Housing: Saddam Salim will fight for the expansion of affordable housing options in our region. He will work to create more financial incentives and a more streamlined process for localities to construct affordable housing.
The Future of Virginia: We need to ensure full reproductive rights, rights for LGBTQIA+ people, a clean energy plan, economic sustainability and diversity equity and inclusion stays  a focus on the future.
About Senate District 37:
Senate District 37 includes the City of Fairfax, City of Falls Church, parts of Fairfax, parts of Falls Church, Merrifield, Gallows, Oakton, Vienna and Tysons. The senate district includes six supervisors and four
Who Saddam is up against:
Saddam is up against a former council member and supervisor, Ken Reid, whose conservative views are out of touch with voters of Senate District 37.
Contact the campaign: here
Contribute: here
---
Senate District 15
Meet the candidate: Senator Ghazala Hashmi
When she was four years old, Senator Ghazala Hashmi immigrated with her mother and older brother from India to the United States. Ghazala earned a BA in English from Georgia Southern University and a PhD in American literature from Emory University in Atlanta.
Ghazala and her husband moved as newlyweds to the Richmond area in 1991, spending nearly 30 years as a professor, teaching first at the University of Richmond and then at Reynolds Community College. While at Reynolds, she also served as the Founding Director of the Center for Excellence in Teaching and Learning (CETL). She and Azhar have two adult daughters who were both born and raised in Midlothian, VA.
First elected to office in November 2019, Senator Ghazala Hashmi represented the 10th Senatorial District within the Virginia General Assembly, which included parts of Richmond City, Chesterfield County, and all of Powhatan County. In 2019, Senator Hashmi's victory on Election Night was what delivered Democrats the Senate Majority and allowed them to make incredible progress on progressive legislation. As a result of state-wide redistricting in 2021, Senator Hashmi is seeking reelection in the new 15th Senatorial District in the November 2023 elections. She is the first Muslim and the first South Asian American to serve in the Virginia Senate.
As an experienced educator and advocate of inclusive values and social justice, she identifies education, equity, the environment, and healthcare access– including reproductive healthcare– as top legislative priorities.
About Senate District 15:
The new Senate District 15 is a majority-minority district that has sizable Black and Latino populations. Senate District 15 encompasses Southside Richmond and a large portion of Chesterfield County, stretching all the way down to Colonial Heights. Since much of this district is new to Senator Hashmi, she is hard at work introducing herself and ensuring that her constituents know she is fighting for their needs and values every day. Additionally, she is drumming up support for Democrats up and down the ballot and across the state during this crucial election cycle.
Who Senator Hashmi is up against:
Senator Hashmi running against Hayden Fisher, former Chairman of the Richmond City Republican Committee. He is an anti-abortion, anti-woman's rights candidate who has aligned himself in the past with Republican extremists and election deniers such as Amanda Chase, Michael Flynn, and John Mcguire.
Contact the campaign: here
Contribute: here
---
Senate District 12
Meet the candidate: Natan McKenzie
Natan Mckenzie is running for State Senate because he believes that District 12 needs a candidate who will speak with a tone of empathy and serve all of the constituents, not just the party and corporate interests.
Legislatively, he wants to increase the effectiveness of our education systems, which first starts with fully funding our schools and expanding the financial literacy curriculum along with social/life skills. In addition, he wants to significantly reduce gun violence and its damaging effects on our communities, especially among our youth.
The most pressing issue on the ballot this year for Virginians is the right to legal and safe abortions. Bodily autonomy is not a crime. Legislators should educate themselves and the general public about the full spectrum of family planning and not be advocating to criminalize a person for having complications or any other anomaly concerning pregnancy.
He trusts individuals and healthcare workers to be able to make their own decisions about their bodies and the care of their patients. We must advocate and defend their rights.
About Senate District 12:
This new Senate District 12 is basically shaped like Louisiana on a tilt and comprises the northern, western, and southern portions of Chesterfield County and all of Colonial Heights.
This new seat would have been represented by Sen. Amanda Chase as the "incumbent". However, she narrowly lost her primary election to former Sen. Glen Sturtevant, who previously lost his re-election to Sen. Ghazala Hashmi in 2019. After the primary results, Sen. Amanda Chase threatened a write-in campaign in protest. Needless to say, the Republican base is still divided on this year's nominee.
Who Natan is up against:
Natan's opponent is running on the typical Republican agenda– prioritizing "empowering parents by giving them a say in their children's education" via school choice, protecting our "God-given Second Amendment right," and is anti-choice. He does not reflect the values and opinions of SD 12 but those of Governor Youngkin and most recently MAGA extremists.
How is this a must-win seat:
We all know about the importance of what's on the ballot and the potential nightmare that would ensue if Gov. Youngkin has a trifecta.
Therefore, we need at least 51 Dems in the House and a strong Blue Wall in the Senate to block any of the schemes,  executive orders, and appointments that would arise from Gov. Youngkin.
It's more than defense here. U.S. Sen. Kaine has come within less than 2% of winning this District. Senate District 12 is more than winnable in this off-off year election. Natan is communicating the economic message which has resonated with more than just die-hard Dems. We're picking up the independent vote and more moderate Dems. It's a matter of offense in who can bring the most voters to the polls.
Contact the campaign: here
Contibute: here
---
That's it for Volume XVII of our Flip and Defend-A-District Friday series. We'll be back next week and every week until Election Day to share more about our great candidates. In the meantime, I encourage you to review this email and future editions to find a candidate or candidates whom you would like to support with your time or financial resources.
Project Blue Dominion is committed to supporting Democratic candidates in every corner of the Commonwealth. Join us. The fight to take back the majority is on.
---
Best,
CLICK HERE TO CONTRIBUTE TO BLUE DOMINION PAC
********************************************************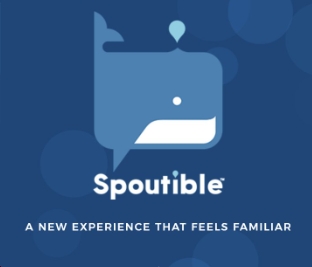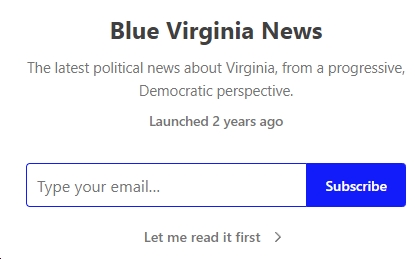 Sign up for the Blue Virginia weekly newsletter